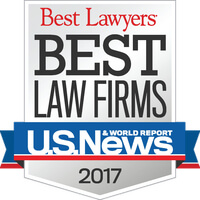 Cooney & Conway is proud to be a business partner of the Cristo Rey Corporate Work Study Program, and was recently recognized in Crain's for its participation. Jose Rodriguez of Cristo Rey spoke of the history of the program, with its early roots in 1996: The Jesuit religious order is renowned for its long history of academically challenging high schools and universities. Following a decision to bring this education system to students of low income families, a feasibility report was conducted in Pilsen - an area that, at that time, with a high school graduation rate of just 40%. The decision was made to bring a college prep program to an area that could not otherwise afford it, and with it, the opportunity to increase graduation rates.
Business leaders and alumnae were convened to build a model wherein students could earn a portion of the tuition by job-sharing clerical positions in partner companies. Father John Foley, the first President of Cristo Rey Jesuit High School in Chicago, was instrumental in recruiting some of the early business partners, including Loyola Press and the National Museum of Mexican Art. Along with the help of notable Jesuit mentors and the Bill and Melinda Gates Foundation, new schools were able to open - modeled on Chicago's Cristo Rey - and a national movement began.
The process for students to participate begins with a rigorous interview process. Not all students are accepted into the program, which seeks humble, hard working individuals with the right attitude. Once accepted, students enroll in a summer training business institute - a sort of "boot camp" - which prepares them for all aspects of the working process, from customer care to the basics of filing and computer programs. Upon completion, students are placed with one of the many corporate business sponsors. Students typically work at this same job site for the duration of their education at Cristo Rey.
Some of the students currently working at Cooney & Conway in the work-study program had this to say about their experiences:
"Working at Cooney & Conway has definitely shaped my career decisions. Working here has helped me see all the things that the workers here do to help people. I really like how I learn new things every day. I get to help out with minor things but I'm glad that even if what I'm working on is something small I'm still making a small difference. I enjoy coming to work every Thursday and, in fact, it is one of the things I look forward to. Cristo Rey is different from other school because they give us an opportunity to work in companies. They let us see how the real world works and how it's going to be when we get older and get a job. I am grateful to the company for taking a chance and giving me the opportunity to work here. "
"My experience at Cooney & Conway has been great. It has helped me shape my future career choice because I know how I work as an individual. In school, it is mostly group work and at C&C, it is all individual work. Here at C&C, I have learned many new things so my experience has been good. I learned computer skills, ethnic skills, social skills and communication skills. Cristo Rey is different because they teach you one extra thing that no school teaches. They teach us how to be prepared for work. Cristo Rey's goal is to send each individual work ready, religious, caring, open minded and loving to college, and eventually to work. Many other schools do not do that. I don't know much about other work places but C&C makes me feel welcomed and that I am part of the C&C team, not just another intern."
The outcomes of the program have been incredible with 99% of students graduating high school, and the vast majority is accepted into college. Some students continue to work at their job sites, part time, while continuing their college education. Some of these students go on to be mentors to incoming groups of work study students. They become a network of support and create a talent pipeline.
One such student is currently employed by Cooney & Conway after completing her work-study program. Our own Cristina Hernandez has this to say about her experience:
"I was hired in the summer of 2012 after I graduated from high school. I really love and enjoy working at Cooney & Conway. I am currently attending Dominican University. Cooney & Conway has really been flexible to my schedule which is rarely the case of many graduating high school students. I come from a low-income family and working at Cooney & Conway has helped me to pay off my tuition expenses on my own. Even though I am another employee, they still put more emphasis on me and my education. One of the reasons why I love working at Cooney & Conway is that they truly value the person. The relationships at Cooney & Conway are not the usual boss and the employee but rather are more like a family. The partners are very understanding and take the time to know you. I am currently still helping my co-workers with whatever project comes up. I have gained a lot of experience for what each department does for the law firm. I am truly grateful and appreciate that I work at Cooney & Conway. "
Cooney & Conway is proud to be a member of a program that helps prepare talented, committed individuals for employment. Thank you to all of our Cristo Rey students and their diligent hard work.