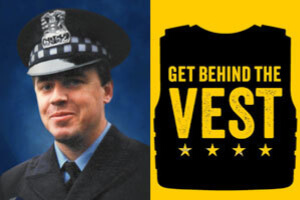 As the city of Chicago mourns the loss of another police officer shot in the line of duty, Cooney & Conway is proud to support employee Brian Flisk in ongoing efforts to provide replacement bullet-proof vests for Chicago Police officers. Brian's father, CPD Officer Michael Flisk, was shot and killed in the line of duty in 2010 during a routine evidence-gathering operation.
Brian, who works as an investigator for the law firm, appeared on Fox 32 Chicago's Tuesday morning show to raise awareness for the "Get Behind the Vest" campaign, and to promote a fundraising Pancake Breakfast to be held on Sunday, February 18 at St. John Fisher School in Chicago.
"We as citizens expect the best out of our officers and so I believe it's important that we provide the best equipment for them to keep them as safe as possible," Brian said.
Cooney & Conway employees will also hold a fundraising lunch to raise money and awareness for Brian's work to keep the memory of his father alive by helping to keep CPD officers safe as they serve the community.